On 13 and 14 December 2017, African Forum Scotland were honoured by the United Nations through their selection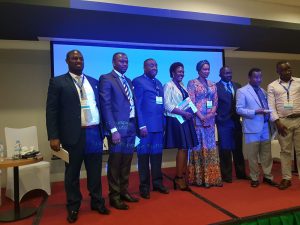 of its Group Executive Vice President 'Festus Olatunde' to be a key principal speaker at the United Nations trans-African gathering in Kigali, Rwanda. The Conference is entitled the 'African Entrepreneurship Policy Forum'. This UNCTAD and Empretec initiative was attended by over 500 delegates representing Heads of Government, Policy makers, CEOs, leaders of NGOs, the Tony Elumelu Foundation and the Chief Executives of African Empretec divisions. Festus presented an overview of the successful and effective entrepreneurship and educational strategies and projects currently being implemented by AFS. On the conclusion of his presentation, Festus received a tremendous ovation of approval. During his presentation, Festus was also able to emphatically position AFS within the Empretec strategic firmament which strongly features Empretec's recognition of AFS as exemplars and global champions of diaspora
led entrepreneurship through our strong commitment to design initiatives and create institutions to promote entrepreneurship.