Become An AFSBA Approved Tuition Centre
Burgeoning economies must be fed by an educated and properly trained workforce.
Put simply, talent shortages curb innovation, limit market potential and stifle economic growth. Therefore current 'talent shortages' represent another stark reality in Africa: A third of the CEOs in a PwC Global CEO Survey confirmed that a shortage of talent, curbed innovation or stifled many market opportunities. Furthermore, almost half of the CEO's consulted, stated that talent costs had also climbed higher than expected. Recruitment and retention of skilled middle managers was also particularly challenging for 67 percent of the CEO's interviewed
AFS 'transformation' programmes introduced through our Business Academy, address these challenges. Alternative, short term change through stop gap solutions are reversible and a waste of investment, time and resources. Sustainable AFS resourced 'transformation' programmes, feed and deliver permanent, well supported industry sectors and underpin self-determination inclusion and empowerment.
Our self-perpetuating methodologies, create trade and not aid and deliver hope to struggling Africans.  AFS programmes offer hope where there was once only despondency and despair.
The AFS Academy courses help underpin all our initiatives as education coupled with personal and organizational improvement, drivers all of our initiatives and permeate all our efforts and enterprises. AFS views each day as an opportunity to learn something new. Knowledge underpins all our activities and our joint ventures. Well integrated capacity and infrastructure building enables the successful emergence of the 'as yet untapped and underdeveloped' resource of women and young people. This will underpin and enable companies and organisations to develop and capture this resource and unleash the immense future potential of Africa.
African investment in Capacity Building will thus enable the emergence of an entire new strata of improved earners throughout the Continent's population. As a kick-starter, our Entrepreneurial/Agroforestry initiatives are of supreme relevance to improving the livelihoods of subsistence farmers and their families and since farming families represent 70% of all Africans, then the potency of AFS, working alongside our joint venture partners and our Clients, have the most powerful impactive  tool and the means to deliver economic prosperity for Africa.
Consequently, through enhanced earnings and the emergence from the 'Poverty Trap' of countless numbers of Africans, AFS can help create a whole new strata of consumer spenders and provide a new boost to economic advancement throughout the Continent.
Our Process
As an Approved Tuition Centre, AFSBA will empower you to introduce, teach and facilitate our Business Academy Programs. Although AFSBA will have overall responsibility for awareness and marketing in their macro-marketing areas, all Approved Tuition Centres will also be responsible to carry out administrative tasks, local marketing and the delivery of training as per the AFSBA training manual and the selection of set training days.
As part the process, all facilitators in Approved Tuition Centres must undergo training by AFSBA, so as to enable them to legitimately and competently, facilitate the delivery of all AFSBA program courses.
However, there are 2 options available to Approved Tuition Centres as part of the capacity building induction process.
Option A:
Each accredited and approved Tuition Centre will organise an AFSBA class (minimum 10 participants) and to facilitate successful start up, facilitators from AFSBA Head Office will deliver the first AFSBA class. As part of the training and induction process, accredited and approved Tuition Centre Trainers will participate in absorbing the learning process. The train the trainers' capacity building course will be immediately delivered thereafter. (this involves between 2-3 days). Newly accredited and approved Tuition Centre facilitators will become comfortable with our AFSBA principles and our distinctive training approach, during this process.
Option B:
We will deliver the train the trainer capacity building course based on the AFSBA programs to you, your staff and trainers in your Centre. However in this option, tuition, logistical and residency expenses have to be paid by the Approved Tuition Centre, directly to AFSBA.
Examinations will be set for Certificate and Diploma programs four times a year by AFSBA in co-operation with Approved Tuition Centres.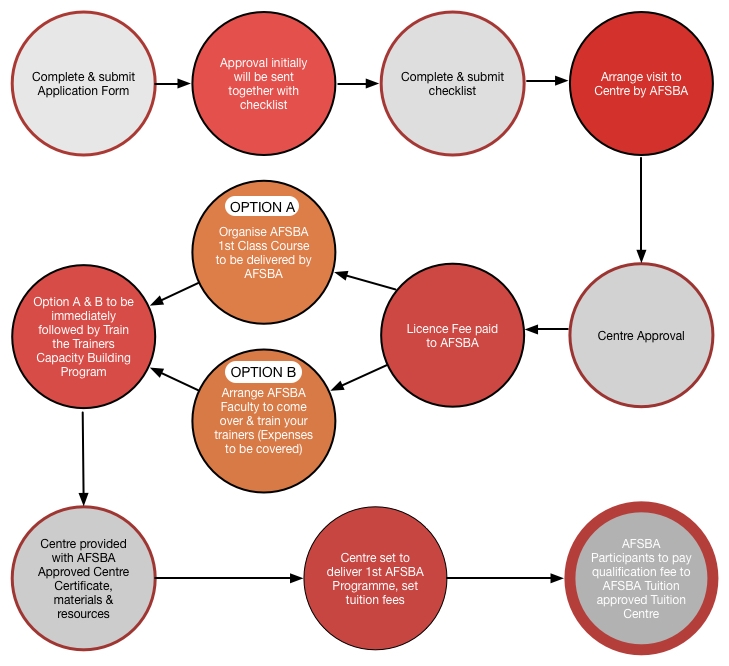 Become An Approved Tuition Centre
Approved Tuition Centres will have the opportunity to co-deliver and co-facilitate diverse AFSBA capacity building programs (Certificates &Diplomas) over the course of each year and to deliver this in partnership with AFSBA. This mutually beneficial and jointly managed initiative, represents an important and sustained foundation to underpin and enable the success of further and future programs.
AFSBA will work alongside Approved Tuition Centres to deliver and sustain high quality educational services and programmes. AFSBA will provide each Approved Tuition Centre with a detailed Training Manual containing all relevant information on training preparations, and comprehensive advice on the monitoring and evaluation of all knowledge delivery processes.
AFSBA on a regular basis, will ensure the program course content and teaching materials are updated and relevant. This includes videos, case studies etc. This will be supported by the provision of annual training capacity building updates which will be made available to all Approved Tuition Centres.
Rating of Approved Tuition Centres
AFSBA will grade Approved Tuition Centres based upon the quality of service and facilities they are able to offer. We will apply the following criteria to Approved Tuition Centres;
3 STAR

4 STAR

5 STAR

Atmosphere for conducive learning
Projector & projector screen
Quality of trainers and facilitators; at least 2 trainers qualified
Health & Safety in place

Availability of fresh drinking water
Quality of trainers & facilitators; at least 3 trainers qualified.
Air conditioned training facilities
Internet access

Easy to access local amenities
Quality of trainers & facilitators; at least 4 trainers qualified
Ability to provide access to and adequate training resource
Photocopy facility
Easy location for transport
Responsibilities of Approved Tuition Centre
Provide AFSBA with information and feedback in relation to the completed AFSBA course and programs in Africa
Provide site training for AFSBA courses
Provide AFSBA with the names and details of the participants that have completed the AFSBA program
Follow and comply with all AFSBA`s training and capacity building requirements
Supply all requested information to AFSBA for the purpose of quality assurance , monitoring and compliance
Ensure tuition fees are collected from participants
Deliver the course program in accordance with AFSBA standards
The Approved Tuition Centre must inform all student/participants of the cost of participation in our courses, prior to registration
Minimum Requirements for an Approved Tuition Centre
Comply with AFSBA quality standards and procedures
Implement and comply with all national legislation regarding Training, H&S, and Equality
Must have access to qualified skilled trainers and expertise.
Must be in operation in your chosen sector of not less than 3 years
Training facilities must be of a sufficiently high standard to deliver training
Cost of Being an Approved Tuition Centre
Yearly Licence Fee £300 pounds Sterling including receiving updated delivery of the 'train the trainer' course
Yearly Licence Fee £350 pounds Sterling including revision and update of our capacity building update
| | |
| --- | --- |
| Payment | By Direct Transfer to AFS UK Account |
| Application | By Invitation |
Make contact with African Forum Scotland today
Why delay?
Simply send us your completed contact enquiry form.
This simple first step can beneficially transform you or your organisation's entire future!
Please get in touch today by submitting your enquiry or sending us your application to join or manage an AFS Consulting Course.
We guarantee that our Consultants will thereafter respond as quickly as possible
W: www.africanforumscotland.com
Email: info@africanforumscotland.com
T: (44)0141 440 2700