Central elements of the holistic Programme of learning and teaching
There are 7 (i) to (vii) core elements to this programme:
i) Programme Ownership
: Africa Forum Scotland Business Academy. Stakeholders: African Forum Scotland, ABCi and Mount Zion Film Institute.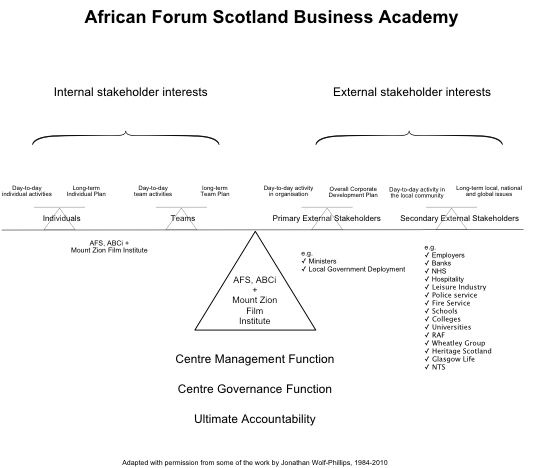 ii) Integrity of the Programme
: The programme will be quality assured through Quality Scotland, European Foundation for Quality Management and academics involved in the programme delivery.
Quality Scotland is the Accreditation source of all 8 Programmes being undertaken within the African Forum Scotland Business Academy. They will have an external quality assurance audit remit with annual reviews of courses being delivered and so forth. They will as required have options to be involved across the year as they see fit. Underpinning these reviews each course will have an evaluation system in place and all those involved in delivery of said courses will meet quarterly ( or sooner, if necessary) to do an overall course review. The programmes will remain current, fresh and up to date through all staff being involved in research, global conferences, publications and so forth. The African Forum Scotland Business Academy will comply with all intellectual property rights as set out in law and protocol.
There will be an internal and external Assessor system in place to ensure ethical marking and processes. All material used will be peer reviewed and all providers of material will be academically qualified to provide the learning materials, tools of assessment and instruments of assessment. There will be a robust infrastructure and management system to ensure accurate record keeping, appropriate audit trails, confidentiality of learners' personal data and exams/ test papers, response sheets and so forth. The underpinning policies and audit trail in the table below provides a log of the initial documents:
| | |
| --- | --- |
| Code of Ethical Practices Policy | Enrolment Policy |
| Confidentiality Policy | Appeals policy |
| Freedom of Information Policy | Record Management Policy |
| Marketing Policy | Learning Contract |
| Course Certificates | Disability Policy |
| Data Protection Policy | Letters of: Offer, results, withdrawal, non-payment of fees and award |
| Proof of Payment receipts | Corporate Social Responsibility |
All practices will adhere to the UK legislation underpinning Data Protection, Disabilities, Equality Opportunities and Diversity. The programme will also be mindful of host African countries legislation and cultural practices, beliefs and values, whilst considering those in the UK. An all encompassing Confidentiality Statement will be adhered to by all those included in these programmes, irrespective of their possession in the programme; breaches of confidentiality will be addressed through the Academies Disciplinary procedures.
iii) Benefits of the Programme
The programme is designed to encapsulate the needs of learners within the UK and Africa. All material will be culturally diversified to enhance the learners experience e.g., understanding and connectedness with the programme. All Learners will gain recognised qualifications which will reinforce their personal and professional employability in the future. The programme is tiered (certificate then progressing onto Diploma) deliberately to enable the learners to develop different skills, knowledge and understanding levels as they themselves develop academically as well as in a business entrepreneurial sense. The learners will have support from tutors, mentors, coaches and others such as pastoral care, special needs care (e.g. more time if necessary for learners with certified Dyslexia) during their programme of study. They can also access peer review support networks enhancing their networking skills and contacts globally. Overall, the programme is a conduit to enable learners to take control of their own future well being and economic stability through entrepreneurship and leadership training.
iv) Reach of the Programme; who should attend
The Programme is a multi-sector one, designed for entrepreneurial leaders across different sectors e.g. non-profit, business and government sectors. Globally, entrepreneurial leaders are transforming the approaches to problems in areas such as health, education, housing, media, poverty and agriculture. The African Forum Scotland Academy Entrepreneurial Leadership Programme is designed around the needs of successful entrepreneurial leaders and the challenges they face. The programme is designed to help participants move their vision forward by refining their innovations and capitalising on their impact. The programme is targeting Africans in the UK and other interested individuals as well as Africans in Africa. The programme reach is potentially global due to on-line aspects of service delivery and off line service delivery. As the programme progresses the reach frontiers will move to be all encapsulating across the globe.
v) Principles underpinning this Programme
We are:
Dedicated to designing and delivering embedded and sustainable solutions to enable our clients, whether commercial, cultural or political, to prosper, grow and achieve their ambitions and aspirations.
Motivated throughout our commercial endeavours to improve the livelihoods and well being of socially disadvantaged communities.
Striving to grow our business through delivering "ethical" solutions to help clients achieve their aims.
Educating and coaching "indigenous communities" to develop their current knowledge, in order to, enable them to become self reliant and successfully manage their own futures and destinies.
vi) Programme Registration Processes
: Registration is an on line process. Once each learner is formally enrolled they will be provided with unique individual identification recognition and password access to their course work and tutors. There will be fees for this educational platform, but learners subscriptions will be substantially reduced through African Forum Scotland subsidies as part of our corporate social responsibility policy. International students will be further subsidised to encourage enrolment and this facility will be marketed and delivered through our ABCi Media TV and Radio stream broadcasting.
vii) Effectiveness, monitoring and evaluation of Programme Strategy
: An ongoing system of monitoring and evaluation will underpin each strand of the programme. All feedback will be recorded and used to inform the programme planners, stakeholders, tutors and support staff as to areas requiring revision, expanding, retaining or developed. Furthermore, the data collated will be used for monthly reports, six monthly and annual reports. The overall effectiveness will be evaluated through up take numbers, successful completion rates, student retention rates and destination tracing exercises. The latter activity will contribute to the development of future new modules or knowledge strands to ensure economic, geographical, cultural, and business needs are being meet